Marilyn Poscic's first book now available!
I am proud to announce the launch of my client's new book, Last Soul Standing – Surviving My Last Surviving Relative.
Marilyn Poscic is a nationally known Angel Messenger, Medium, Psychic Counselor and Educator. She had also spent over 20 years in the medical field but nothing in her previous experience had prepared her for the challenges of dealing with her mother's stroke, rehab and eventual death.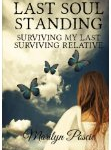 Buy Now From Amazon
In 2009, Marilyn Poscic lost her mother Margaret to a stroke leaving her totally alone in the world. The stroke caught Marilyn completely off-guard and unprepared. Up until the day it happened, Margaret had been a healthy, outgoing, energetic, life of the party 87 year old with no history of any disease. She wasn't even on any medications. And then BAM!
What happened over the next several months was agonizing, frustrating, stressful but sometimes joyful for Marilyn as she took on the medical system to get Margaret the care and consideration she deserved. Marilyn suffered through the learning process all by herself with no relatives to lean on, just her Angels and her God. She was the Last Soul Standing.
Marilyn survived the ordeal and made it her purpose in life to make sure others didn't have to learn the harsh realities of hospitals, and reahabs, and nursing homes the way she did. She writes, "I feel with my whole heart that if this book helps just one person, I am blessed."
If you are dealing with an aging parent or loved one, even if they are currently healthy, this book is for you.  We never know when the universe is going to throw us a curve ball. Better to be prepared. Marilyn imparts in her book the knowledge that will empower you to take control of your loved one's care.
If you'd like to know more about Marilyn please visit her website at www.marilynposcic.com